Making new out of old has never been so trendy. More and more designers and individuals are giving new life to damaged, forgotten or outdated clothes through upcycling.
"Nothing is lost, nothing is created, everything is transformed". If this famous quote from Lavoisier dates from the 18th century, it could just as well be the 2021 slogan of "Do It Yourself" pros, and more particularly of upcycling enthusiasts. More and more creators and individuals are embarking on this manual activity which consists of "recycling but better", and which is also called upcycling.
The concept? Upgrading old-fashioned or damaged materials or objects, in order to transform them into something more beautiful or more useful, and above all, to avoid them going through the trash can. A creative way to pass the time, to limit its ecological impact, but also to save money. On social networks, many Internet users are advocating this new mode of consumption, with a lot of impressive before-after videos that make you want to cut out half your wardrobe. And the curtains.
From bedspread to trendy jacket
On the TikTok social network, the hashtag #upcycling currently records 4 billion views, and #upcycledclothing ("upcycled clothes") nearly 40 million. Accounts are entirely dedicated to the art of upcycling, and detail the different stages of manufacture in order to reproduce the process at home. Among them, that of Tristan Detwiler, a young man with 120,000 subscribers who transforms old fabrics into bohemian pieces, like this 1870 bedspread, found in Marseille and transformed into a unisex jacket.
Or even Paige Sechrist, followed by more than 350,000 people, capable of transforming a man's shirt into a trendy corset, or an old striped sheet into a mini-dress and matching bucket hat. Her hypnotizing and ultra-creative videos have been a resounding success - one of them has been viewed more than 12 million times.
If tiktokers have happily taken over the concept, upcycling is nothing new. The word has been around since the 1990s, and already in 1989, visionary designer Martin Margiela paraded models dressed in tops made from supermarket plastic bags. But in recent years, with the explosion of ethical fashion and the general awareness around the excesses of fast-fashion, upcycling is attracting more and more brands.
Last December, the Italian house Miu Miu presented Upcycled by Miu Miu: a collection of 80 vintage dresses from the 1930s to the 1970s, sourced from around the world and upcycled. But individuals, whose creativity has been boosted by the pandemic and confinements, are also getting started.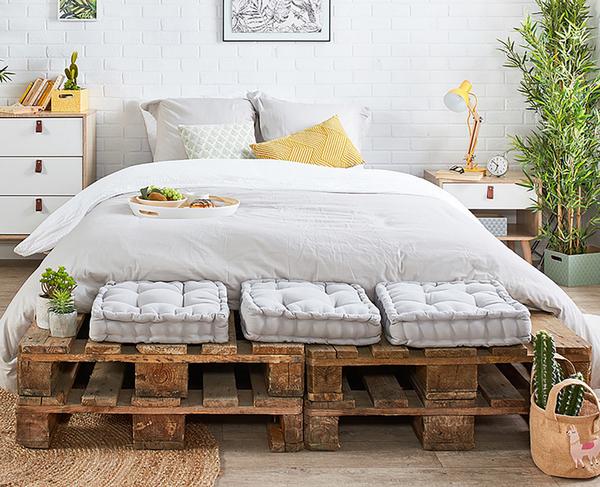 "An eco-friendly gesture while being stylish"
This is particularly the case of Margaux, a 28-year-old French expatriate in London. Barmaid in a club closed for months due to the pandemic, she overcomes boredom with her pair of scissors and sewing thread.
One of his very first projects was to upcycle pants that no longer fit him. She transformed it into patterned patches, then sewed (all by hand, she doesn't - yet - have a machine) on a cardigan, which was also damaged. Result: two upgraded pieces, and a new item of clothing in her dressing room. The young woman also enjoys antiquing, in the London "charity shops", pieces that she wishes to modify. Like a batch of ties transformed into a top to tie (see video below), or even a large white shirt that she deconstructed to make a dress.
It takes about two to three days to complete a project. "I sew everything by hand, so the process is much longer than with a machine," she explains, assuring that "upcycling is easy". "You don't have to be the greatest fashion designer on Earth to make a cool piece of clothing or accessory, especially with the thousands of resources on the Internet," says Margaux.
Accessible to beginners
"Many upcycling projects are accessible even to beginners!", confirms Laura, a 30-year-old designer who hides behind the Gigette Vintage brand, and who regularly offers tutorials on her Instagram account. very good condition, and tired treasures from the past that she gave new life to, among them old clothes (babydolls, early 20th century lingerie, 1980s shirts...) turned into cropped and modern tops.
"Creating something makes you happy," she continues. "In upcycling, we suggest using things that we already have but no longer use! You can therefore create a unique, beautiful, functional object from clothes or things that you might have thrown away . It's obviously good for morale. And little by little, it leads us to reflect on what we already have and the possibilities that all this offers us".
Promoting circular and committed fashion
Like Gigette Vintage, more and more independent brands are opting for upcycling and so-called circular fashion, thus avoiding the production of new, highly polluting materials. Gwendoline, 26, launched her brand Redonne Une Vie last year in Montpellier, after recovering "more than ten kilos of buttons in an association, which had been sleeping in a cupboard for years". Buttons that she transforms into rings, bracelets, barrettes or even earrings - creations called "Little Buttoms".
Upcycling, this self-taught got into it out of passion, thanks to "videos and a lot of patience". With her brand, she also tries to attract a public less sensitive to the abuses of the fashion industry, for example by adapting "fast-fashion trends to upcycling in order to make the concept adhere to people who are not initiated".
Driven by the same fight against overconsumption, Daphné and Mona created RESAP Paris, an upyclé clothing brand to "offer the possibility to our generation to dress in accordance with its values, both ecological and ethical", tell us- they.
On the same subject
Also concerned with making upcycling accessible to as many people as possible, Daphné and Mona offer pieces with a resolutely modern chic and urban style, with an average price of 50 euros. RESAP Paris is also "Do It Yourself" kits and workshops, "to involve people in our mission", they say. "The idea is to show them that they too can create, learn to sew and transform their own clothes, we want to show them that there really are an infinite number of possibilities through clothing", detail the designers, before add: "If everyone starts repairing and upcycling their clothes, the world will change!".
Nawal Bonnefoy