The gold: for whom?
It is the ally of all women because it is suitable for all morphologies.Whether you are luscious or threadmail, it brings a touch of light to your outfits and an instant festive side.A golden oversized jacket will magnify the thinnest, while black pants with a golden braid will sublimate your legs by lengthening them.The gold is also the glamorous touch that sparkles the end -of -year looks!To play in small touches and to associate with other shades, it is suitable for all skin tones.A golden blouse on black fluid pants will be ultra-chic.Fancy discretion?Opt for small delicate prints in golden tones.
How to wear it?
For the most daring, we put on a daily basis on a strong room like a blouse, a perfecto style jacket, pants or a skirt.For the holidays, the golden dress is a very good option if you associate it with a more sober room to calm the game.Favor the gold in small touches, on a daily basis, to illuminate your look and go for the total look for the holidays, because you can afford it!
On the color side, we associate the golden with black, white, beige and nude, but also with navy blue or burgundy shades (wine lie, plum ...).Also go on the mixtures of golden and prints (flowers, leopard ...) that work wonderfully!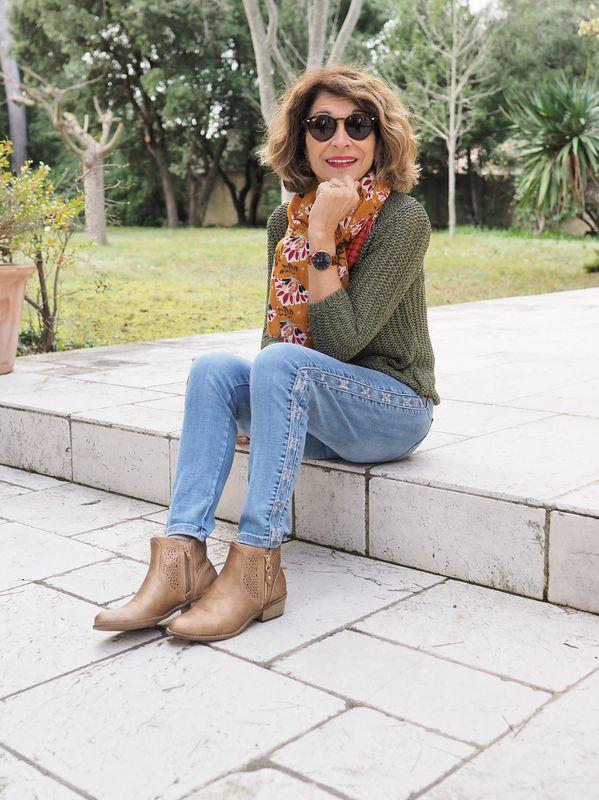 In terms of materials, the gold is the ally of silk, wool, cotton or linen.Do not hesitate to make elegant mixtures to enhance your daily looks and your party outfits.
What about accessories?
If golden clothes seem difficult to wear, accessories will come to your rescue!Nothing better than gold in small touches like a bag or boots on a daily basis, which you will swap against evening sandals or dizzying pumps for the holiday season.
For those who are broken in gold, all you have to do is accessorize your golden looks with pieces that will not necessarily be golden, to avoid the bid!A golden skirt will therefore be perfect with a pair of waders for example and golden pants will marry with black pumps, quite simply!
Thanks to Anne-France Deparcy, director of the AFIBEL collections.
Read also :
⋙ mode + 50 years: ideal outfits for the holidays
⋙ mode + 50 years: Christmas in white and gold, instructions for use
⋙ Mode + 50 years: What tights to wear with my party outfit?